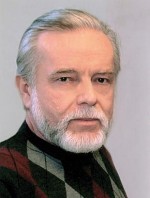 I do believe that art, though sometimes oppressed, is eternal. You can live without it but it is not worth it, because art can really fulfill and colour your life.
I was born in Kiskunfélegyháza on March 28th in 1942.
Studies:
1959 – 1961 Secondary School of Fine and Applied Arts
1963 – 1965 Hungarian Academy of Applied Arts
1965 – 1969 Academy of Fine Arts, majoring in sculpture
Masters: József Somogyi, Jenő Barcsay
1969 member of The Art Fund of The Hungarian Republic
1977 member of The Union of Artists
1990 member of The National Association of Hungarian Artists
I have been active in contemporary art since 1969.
My sculptures have been on display at around 150 individual and team exhibitions. I created a gallery in 1983 where the chosen pieces of my nearly 600 works can be seen. My public works can be found in several places in Hungary as well as abroad.
Significant travels:
1973: Japan (Tokyo, Hiroshima)
1976: Finland (Helsinki, Pori, Kemi)
1986: Poland (Tarnow, Cracow)
1988: Egypt (tour)
1989: France (Paris)