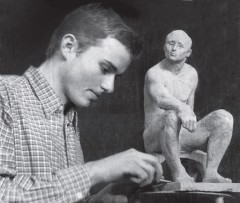 I can admit here that my road to sculpture wasn't exactly straightforward... I was really fond of animals so at the end of my primary school years I was thinking of becoming a vet. However, at secondary school I was intuitively more and more attracted to the world of forms and colours, to ceramics.
This is how I got to the third form of The Secondary School of Fine Arts and Crafts in Budapest after a successful aptitude test. As there weren't enough candidates for ceramics, I was put into the sculpture class.
This is how we made it to be seven in this class: the four boys and the only girl were leisurely sizing up the two of us who came here from a different school. After this in came professor József Somogyi who was more than highly respected by my classmates. He told us his plans about the next two years and to intensify the euphoria asked the mock question if there was any one of us who had had another class in mind.
It burst out from me that I had wanted to join the ceramics class but I soon knew myself to be the odd one out. The air froze! Professor Somogyi was quite appalled and said: "I'll try to do something about it but meanwhile you must make do with me. Believe me, it's not that bad here, either."
What did my classmates have to say to all this? "You fool! You know who this man is? We did all we could to get to him and now you're whining here!" When we started modelling I was feeling better because I saw that I could do it okay, too. I also realized that the others started looking at me in an odd way. After being asked by some to help them, I found it strange that I had ever wanted to do anything else, because my place was exactly here!
A month passed when professor Somogyi came and said: "Now, Guszti, what will you choose? I arranged the ceramics, you can go to the fourth class. Will you leave or stay with me?" "Hell with it, I'll stay", I said. "What an honour!", he said and we burst out laughing. My professor hugged me and said with a laugh: "Welcome aboard!" This is how I became a sculptor...
Essay

(1958.)

Essay

(1959.)