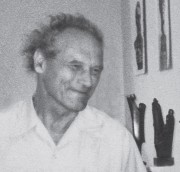 He is an outstanding figure of Hungarian sculpture. He is a little-cited creator of many exciting, still meaningful and figure-modelled sculptures. He was a great figure of public life, too. He was a really selfless artist and teacher, a college rector, an elder and a man who was always ready to help. I think of him as a fatherly figure as well as a good friend. I was the lucky one to be able to have learnt from him to model and to draw at a very sensitive age when I went to The Secondary School of Fine Arts and Crafts. He helped us to grasp the essence of sculpture and unconsciously his humanity, too. I got to someone else's class at college but still he managed to help me.
Many were surprised to see Master Somogyi come up even to our dormitory's studio to instruct us. I informed him of most of the important events in my life after finishing my studies and he was very pleased about this. I was also glad when the traditional teacher-student rapport blossomed into friendship. He let me in on his problems, too, most of which were caused by his serious arguments with the current cultural management. He was also hurt by the fact that his progressive works were often misunderstood.
I was very proud when he opened some of my exhibitions and unveiled my sculptures. There was once that after such an event at the banquet he stood up with an anxious face and said he was really sorry but he had to leave because of a most urgent duty. As I happened to be his driver, we immediately started for Kecskemét. When we got in the car, I was worried and asked him what he had to do. This was his answer: "To see your latest works, of course!".
After spending a pleasant evening with him I was reluctant to let my elderly master go home. However, it's a gift from fate that we managed to keep each other company for eight more years till he died at the age of 76.  
My dear master, I'm writing this book for you, too. Now that I'm nearing 70, I decided to take it with me to flip through when we meet next time- I'd like to know your opinion about it.